Land for Water: Texas Land Conservancy
Published December 13, 2022 by Julia Stanford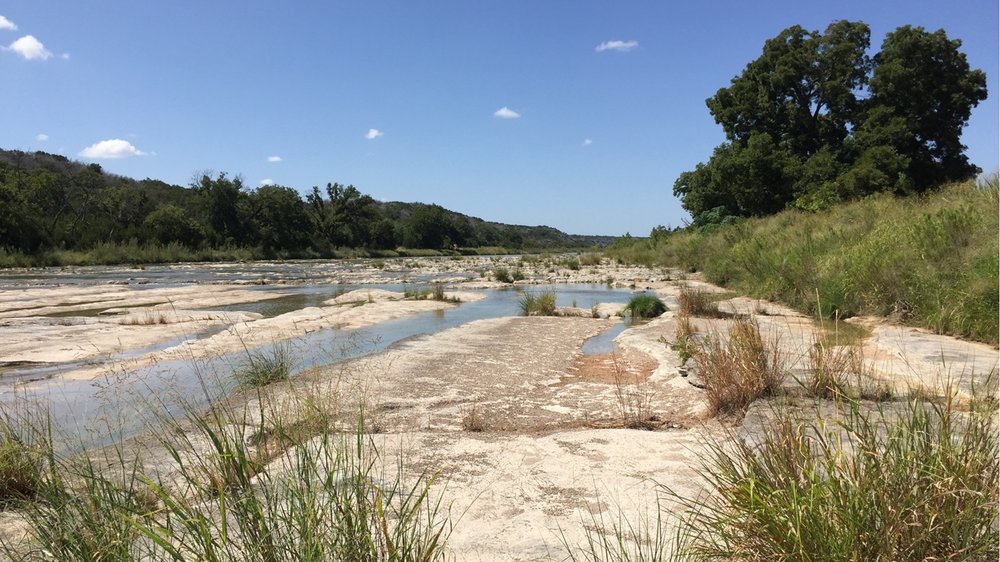 Texas is losing its rural lands faster than any other state in the nation. 1.4 million acres of rural land have been lost in the last decade, with an additional 1.5 million acres estimated to be lost by 2030. Population growth, development pressure, and drought threaten the unique natural resources that make Texas special – things like our crystal clear rivers, expansive prairies, and wildlife ranging from massive American bison that roam the plains to the tiniest fishes in Hill Country karst.
Only 5% of land in Texas is publicly owned, with the remainder in private ownership. For those property owners with a passion for nature that want to protect the future of their land, Texas Land Conservancy (TLC) has a solution. TLC is creating a diverse and expanding network of protected natural areas, supported by Texans who are committed to land conservation. TLC helps private landowners protect their property from land fragmentation and encroaching development pressure by facilitating conservation easements.
Conservation Easements
A conservation easement is a legal agreement between a property owner and a "qualified entity" that limits the type and amount of development that may occur on a particular property. Certain governmental agencies and non-profit land trusts like Texas Land Conservancy are qualified entities to hold conservation easements. This arrangement allows the landowner to maintain ownership and certain uses of their property while protecting the land in perpetuity. Many owners also enjoy the tax breaks that can come with a conservation easement that may reduce their federal income tax burden as well as estate tax potentially owed by heirs. Conservation easements must have a conservation purpose, which is defined by the Internal Revenue Service to include:
The protection of a relatively natural habitat of fish, wildlife, or plants, or similar ecosystem;
The preservation of certain open space (including farmland and forest land); or
The preservation of a historically important land area or a certified historic structure;
The preservation of land areas for outdoor recreation by, or the education of, the general public.
There are many misconceptions about conservation easements. Engaging in a conservation easement does not necessarily mean the public can access a private land, nor does it mean that a landowner who enters into a conservation easement can't continue to use and enjoy the land. Instead, the landowner is agreeing to use the land within the agreed-upon limits of the easement. Property rights are comprised of several aspects including oil and gas rights, mineral rights, water rights, grazing rights, surface mining rights, hunting rights, development rights, and more. These rights can be severed from the land and sold or otherwise modified. A conservation easement limits one or more of these rights, typically including development rights. When a landowner enters into an agreement with a land trust like TLC, they will work together to identify the scope of the conservation easement such that it achieves both the conservation purposes and the desires of the landowner to continue to use and enjoy the land. This can include the ability for a landowner or their heirs to build family homes, farm the land, graze cattle, or other limited activities that will not impact the conservation value of the property.
Land for Water Initiative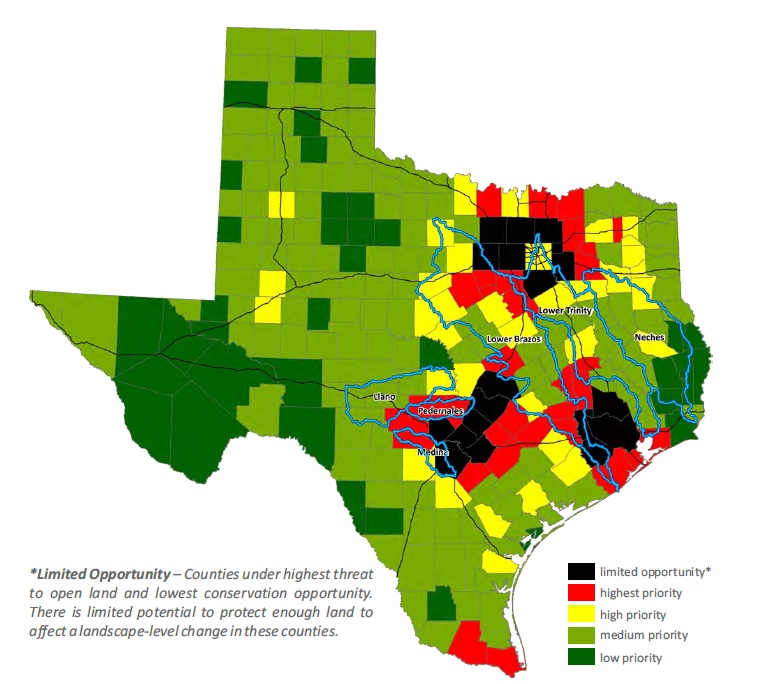 In 2013 TLC embarked on a conservation plan called "Land for Water" to assess threats and opportunities throughout Texas and to define focus areas where land conservation would make the biggest impact in protecting the quality and quantity of our state's precious water resources. To establish these focus areas, the organization's conservation professionals first evaluated counties based on the threat of development – where they were seeing more land subdivision and rapid development, and watersheds that were at risk of diminished water quality or quantity as a result. TLC then looked at opportunities for conservation throughout the state, marking springs, aquifer recharge features, cultural resources, and existing protected lands. With all of those factors in mind, TLC merged those analyses to decide where to focus their efforts. For example, while much of West Texas and the Panhandle have lands with extensive conservation potential, those lands do not face the same development pressure as other areas of the state. Conversely, they found that while the heavily urbanized metropolitan counties in the "Texas triangle" do face such development pressures, the remaining land resources are too limited for conservation efforts to be impactful (see black counties on the map to the left). However, TLC identified areas just outside those counties (designated by the color red on the map) as candidates for land conservation efforts. By then overlaying several key watersheds as well as data like soil type, groundwater levels, and biodiversity information, TLC strategically established its focus areas for their Land for Water initiative. To date, TLC has protected over 62,000 acres of land within the initiative's priority watersheds.
TLC conducts landowner outreach within these identified focus areas in hopes of getting more land placed under conservation easements. Even that outreach is strategic, sometimes leveraging existing conservation easements or public lands. For example, conserving land around an already-established state park or wildlife management area (1.6 million acres owned and managed by Texas Parks & Wildlife Department) would extend the benefits of that property to further protect the wildlife, viewsheds, and recharge potential from the effects of land fragmentation and development. TLC targets those surrounding landowners to share information about conservation easements and the benefits of land conservation. Another way TLC gets their message out is by hosting public events to help cultivate a culture of conservation across the state.
Get Involved
While public access is not a requirement of a conservation easement, some properties were transferred to TLC or a partnering entity to allow for public recreational use. TLC has four nature preserves that are open to the public – Banita Creek Preserve in Nacogdoches, Oak Cliff Nature Preserve in Dallas, Kachina Prairie in Ennis, and Cibolo Creek Preserve in Universal City. Whether you're a hiker, birder, bicyclist, or a photographer, there's a TLC preserve for you to enjoy! Several other properties in East Texas and the Hill Country are open on a limited basis for events like volunteer restoration workdays, special guided hikes, or even weekend campouts. To learn more about these preserves and upcoming TLC events (past events include the Beer for Water fundraiser and my favorite, Texas Nature Lotería!), visit www.texaslandconservancy.org or follow TLC on Instagram or Facebook.
Groundwater conservation district staff and other water professionals may benefit from learning more about conservation easements as a valuable tool to protect water quantity and quality. Consider listing TLC or another land trust on the Links or Conservation page of your website, or even partnering to make brochures available in your district office for landowners interested in preserving their land's legacy. For those not in the Texas Land Conservancy focus areas, there are other land trusts throughout the state that might want to work in your district – some land trusts even specifically concentrate on preserving land for prairies, caves, waterfowl habitats, or agricultural lands. You can find a directory on the Texas Land Trust Council website here.