The Texas Groundwater Summit is the premier groundwater event in the state, bringing together a diverse group of groundwater professionals over three days to discuss emerging trends and new research. The event provides a mix of expert presentations on all areas of groundwater management, as well as networking opportunities for the groundwater community.  We expect to have over 350 groundwater industry leaders, community stakeholders, agency representatives, and elected officials in attendance. You won't want to miss it!
Texas Alliance of Groundwater Districts (TAGD) looks forward to hosting the statewide groundwater community once again at the Hyatt Regency Hill Country Resort in San Antonio, August 30-September 1, 2022. A livestream option is available for those participants that are unable to join us in person.
A full agenda will be available in the coming months, but in the meantime we have developed a schedule at-a-glance to help you plan your travel and know what to expect.
NEW! Field Trip Add-On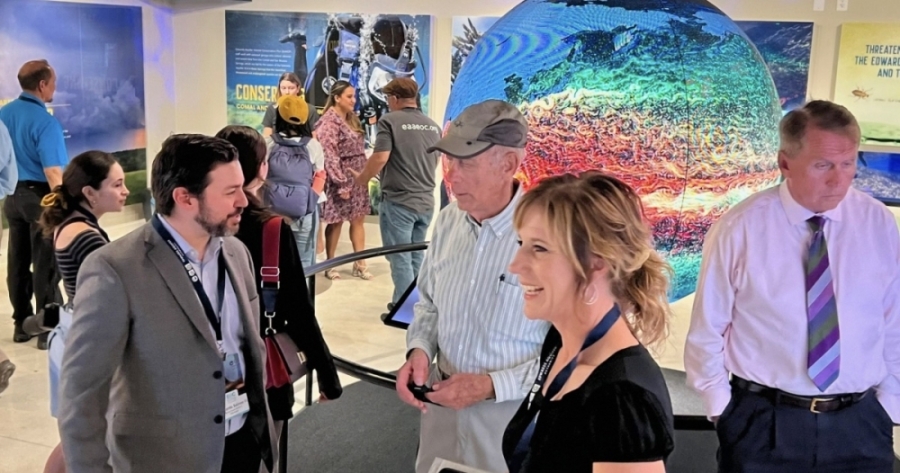 We are pleased to offer a pre-conference field trip to the new Edwards Aquifer Authority Education Outreach Center (EOC). You can learn more about the EOC in the recent TAGD newsletter feature here or on the center's website here. This field trip is available as an add-on ($50) to your Texas Groundwater Summit registration and it will take place from 1pm-5pm on Monday before the Summit starts on Tuesday. Transportation from the Hyatt Hill Country Resort will be provided. Pre-registration is required – add your field trip ticket when you register for the Summit. Are you already registered and want to add the field trip? No problem! Just email groundwater@iemshows.com and they'll take care of you.
Sponsorships Available 
Show your commitment to the Texas groundwater community and gain exposure to hundreds of groundwater professionals by sponsoring the Texas Groundwater Summit. We have packages at every price point with benefits ranging from Summit badges to exhibit booths to branded promotional items. Click here to learn more.
Student Scholarships Available 
TAGD is proud to offer scholarships for students to attend the Texas Groundwater Summit. These scholarships are funded by member districts that are passionate about the potential of students in fields related to groundwater management. Students awarded a scholarship will receive free registration to the Summit. Undergraduate and graduate students are invited to apply for a scholarship here. The application closes on July 29 and scholarships will be awarded on a rolling basis.
Who should attend the Texas Groundwater Summit?
Groundwater Conservation District staff and board members
Well drillers and well technology companies
Water providers and planners
Groundwater stakeholders, including agriculture, oil & gas, environmental and industrial
Attorneys, hydrogeologists, and engineers working in the water field
Groundwater technology experts and vendors
Undergraduate and Graduate Students
Anyone interested in the future of groundwater in Texas