Cybersecurity Awareness Training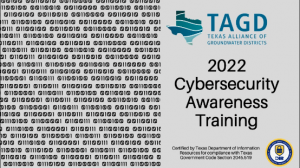 As part of TAGD's mission to serve as an educational resource to its members, TAGD is thrilled to offer our members a free, on-demand Cybersecurity Awareness Training program certified by the Texas Department of Information Resources. The program has now closed for 2022 and we will let members know when we have a program ready for the 2023 cycle.
Questions? Contact Julia Stanford at julia@texasgroundwater.org or 512-596-3101
Public Funds Investment Act Training
TAGD typically offers a Public Funds Investment Act course in conjunction with our spring business meeting in May or June. These PFIA courses are taught by Greg Ellis and focus on the requirements and challenges faced by groundwater conservation districts. TAGD Members may add the course on to their business meeting registration. Non-members, please email julia@texasgroundwater.org to learn more or register.
Who needs to take this course? The Public Funds Investment Act requires the designated investment officer of a district governed by Chapter 36 or Chapter 49 of the Texas Water Code to attend six hours of initial training within twelve months after taking office or assuming duties and four hours of renewal training every two years thereafter. Not sure who should take it? Consult your district's legal counsel.
GCD Boot Camp
Are you a new board member? District employee trying to learn it all? GCD manager with less than 5 years of experience? Just need a refresher on the essentials? TAGD is proud to offer a GCD Boot Camp where participants will learn the ropes of how GCDs operate and manage groundwater resources throughout the state.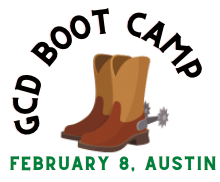 The first module of the GCD Boot Camp took place in conjunction with the TAGD Regular Business Meeting on February 7 at the Sonesta Bee Cave Hotel near Austin. Presentations included TAGD Membership 101, Chapter 36 & Groundwater Management, Hydrogeology/Water Wells 101, State Agency Overview, Joint Planning Basics. Thanks to our speakers and all who attended!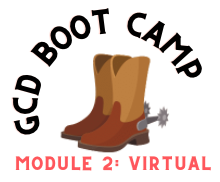 TAGD is excited to offer the second module of our GCD Boot Camp as a webinar on Monday, April 25 from 1:00-3:30pm. Presentations will include Open Government, GCD Must-Do's, and Board Ethics/Liability. This training will cost $30, with a bulk discount for districts registering five or more participants. Click here to register! Click here to view the agenda and speaker bios.
The third module of GCD Boot Camp will take place from 8-10am before the business meeting on May 17 at the Sheraton Arlington Hotel in Arlington. Registration is $40 per participant and may be easily added to business meeting registration. View the agenda and register here.