2022 Texas Groundwater Summit Recap
The 2022 Texas Groundwater Summit is done and dusted. The stage is empty, the chairs are stacked, and participants have returned to their offices across the state bringing knowledge and inspiration back with them – maybe a program idea from a GCD across the state, a new perspective on a hot groundwater issue, or data to share with their local stakeholders. You can view the full detailed agenda and read all about the speakers in the event program here. Click through the photos and read below for a recap of the groundwater event of the year.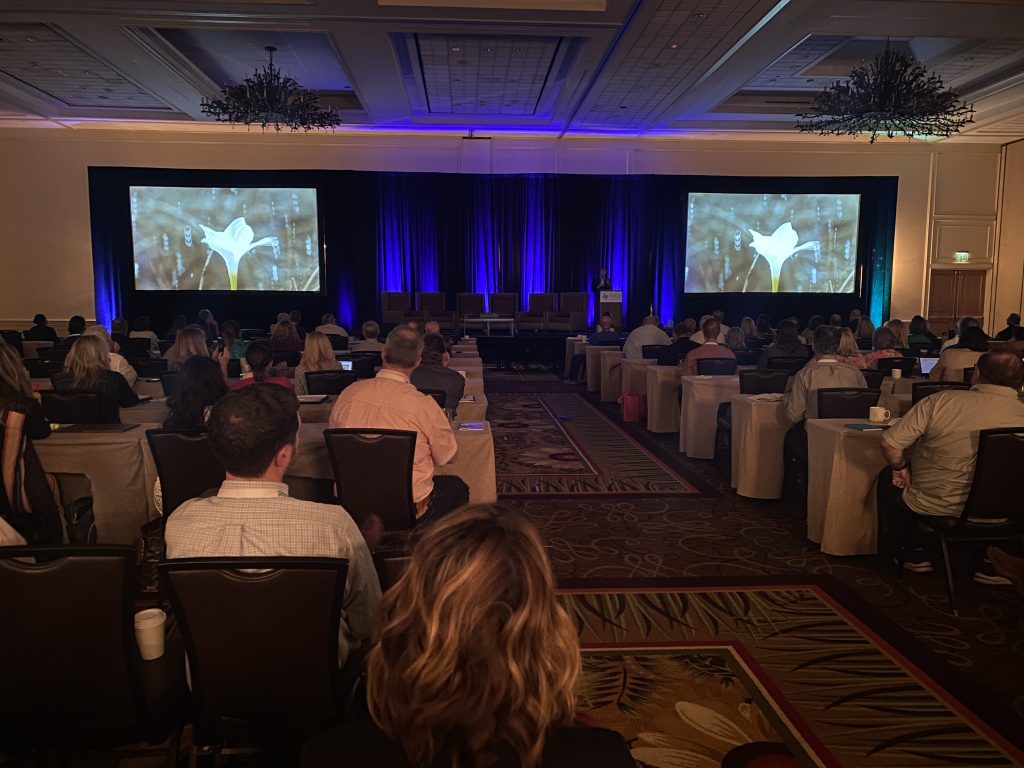 The Texas Groundwater Summit general session presentations offer information relevant to the event's diverse audience. Among those, we welcomed three wonderful keynote speakers. TWDB Executive Administrator Jeff Walker shared updates and an outlook on the future of groundwater science at the agency. Garry Merritt, CEO of the Great Springs Project, spoke about his experiences in local government in Real County and the inspiring project that he leads to connect four iconic Hill Country springs with a recreational trail. He played the Great Springs Project video (photo on left) that made waves earlier this year with stunning visuals and the voice talent of Matthew McConaughey. On the final day of the Summit, Commissioner Emily Lindley of TCEQ provided information about the agency's recent and upcoming efforts related to groundwater.
While most of the Summit sessions take place in one room on the main stage, attendees also have the opportunity on Wednesday afternoon to attend breakout sessions that may be more specific to their work or more nuanced issues. One breakout track offers fundamentals for GCD board and staff members, while other tracks focus on technical, policy, or other aspects of groundwater management. This year's breakout track topics included joint planning, groundwater modeling and measurement, water supply solutions, and partnership programs for aquifer protection. 
Discussion panels are a favorite of Texas Groundwater Summit attendees. Several people take the stage to share a diverse range of perspectives as they explore the complexities of an issue. This gives the audience a breath of knowledge that they may not receive in a typical individual presentation. Click the "+" icon to see details on this year's panels, and explore the photos using the slider arrows.
The "S" Word: Sustainability in Groundwater
Moderator: Vanessa Puig-Williams, Texas Water Program Director, Environmental Defense Fund
Robert Mace, Executive Director, Meadows Center for Water & the Environment
Wade Oliver, Texas Water Resources Lead, INTERA Inc.
Mitchell Sodek, General Manager, Central Texas GCD
Deborah Trejo, Partner, Kemp Smith Law
Robert Mace started with a summary of findings from his 2021 report on groundwater sustainability in Texas. The panel explored the concept of sustainability and what that may look like in different areas of the state.
Water Data: People and Purpose
Moderator: Sam Marie Hermitte, Assistant Deputy Executive Administrator, Texas Water Development Board
Amy Bush, Hydrologist, RMBJ Geo
Ashley Greuter, Program Manager, Harris-Galveston Subsidence District
Joe Yelderman, Professor and Geosciences Department Chair, Baylor University
Taking a look at the human element of groundwater data, this panel shared success stories of communicating complicated data to stakeholders and how to collect and manage data in a useful way.
Groundwater Management When Everyone Wants a Piece of Texas
Moderator: Natalie Ballew, Groundwater Division Director, Texas Water Development Board
Scott Brooks, Director, Clearwater UWCD
Bill Dugat, Partner, Bickerstaff Heath Delgado Acosta LLP
Mike Keester, Principal, RW Harden & Associates
Lon Shell, Commissioner, Hays County
Micah Voulgaris, General Manager, Cow Creek GCD
This panel discussed how groundwater conservation districts can manage limited groundwater resources in light of rampant growth throughout the state. Panelists shared technical and legal considerations for addressing growth at the GCD-, county-, and state level. 
Legislator Panel
Moderator: Leah Martinsson, Executive Director, Texas Alliance of Groundwater Districts
Senator Sarah Eckhardt, District 14, Texas Senate
Representative Kyle Kacal, District 12, Texas House of Representatives
Representative Tracy King, District 80, Chairman of House Natural Resources Committee
Senator Charles Perry, District 28, Chairman of Senate Agriculture, Water, & Rural Affairs Committee
 Legislators shared thoughts on interim charges, the Sunset review of TCEQ and TWDB, and offered insight on priorities for the upcoming legislative session. 
Issues in Water Quality
Moderator: Diana Thomas, General Manager, Sterling County UWCD
Vince Clause, Hydrogeologist, Allan R. Standen LLC
Marc Friberg, Executive Director of External & Regulatory Affairs, Edwards Aquifer Authority
Janet Guthrie, General Manager, Hemphill County UWCD
Panelists working in very different areas of the state discussed various issues in water quality – including saltwater disposal wells, abandoned oil and gas wells, protecting delicate recharge zones, and more. 
Navigating the Journey To and Through a Contested Case Hearing
Moderator: Mike Gershon, Principal, Lloyd Gosselink Rochelle & Townsend
Bill Hutchison, Independent Groundwater Consultant
Stacey Reese, Attorney, Stacey Reese Law
Blayne Stansberry, President, Barton Springs Edwards Aquifer Conservation District
Jim Totten, General Manager, Lost Pines GCD
The Texas Groundwater Summit's signature networking events offer participants an opportunity to network with other groundwater professionals in a relaxed environment – whether you chatted with a consultant over a coffee break or made ice cream sundaes with a GCD field technician, we hope everyone enjoyed reconnecting with colleagues and forging new working relationships. The Texas Groundwater Summit fosters a collaborative spirit that benefits groundwater management throughout the state.
The treat of rain kept us inside for Tuesday's Welcome Reception, but for Wednesday's Happy Hour Reception we were able to spread out to the beautiful tree-shaded outdoor courtyard. Attendees reconvened Wednesday night at the Luckenbach Pavilion for the Drinks & Desserts Networking Event. This annual event allows participants to really kick back and get to know each other in an informal way – maybe even over a heated game of ping pong with a drink in hand!
The Summit also offered coffee and networking breaks each morning and afternoon. The foyer was buzzing as attendees chatted with exhibitors to learn about technical equipment, policy initiatives, and state agency resources. People picked up fun giveaway items like bouncy balls and expandable pocket fans.
Returning for a second year, a photobooth was available for participants to commemorate their Texas Groundwater Summit experience. The photobooth had a variety of silly props that attendees could use to show their creativity as they posed with coworkers, board members, and new friends. Click here to view the full gallery of photobooth photos.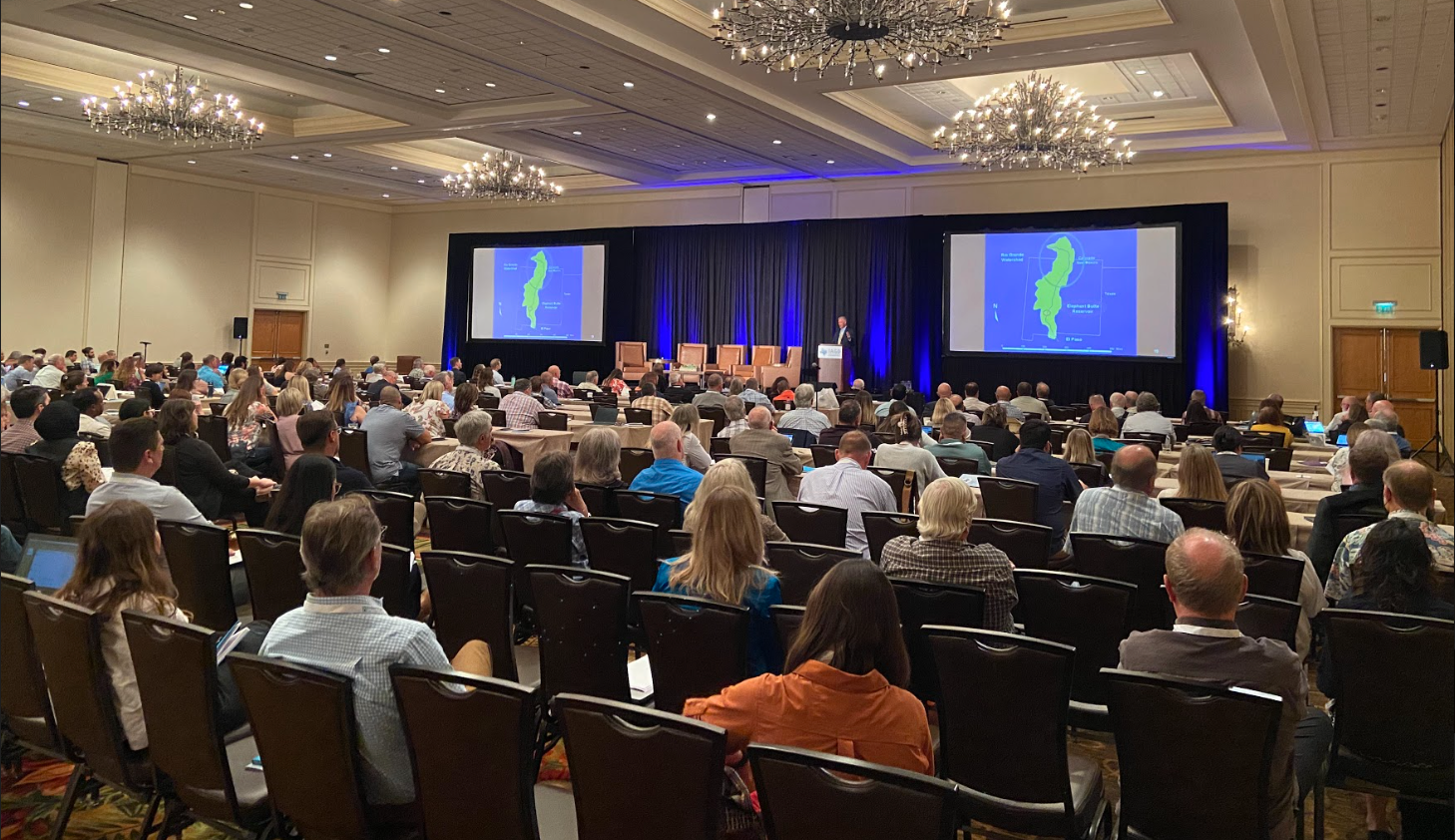 Videos from the 2022 Texas Groundwater Summit will be available on the Texas Alliance of Groundwater Districts YouTube Channel in the coming months. Slide presentations will be posted here on the TAGD website soon. Until then, we hope attendees will take what they've learned and share with others around them. Our media partner KAMR/MyHighPlains.com has published a series of articles with takeaways from each day of the Texas Groundwater Summit. You can read those articles here – day 1, day 2, and day 3. Trey Gerfers of Presidio County UWCD also published an article in the Big Bend Sentinel that can be viewed here. If you shared your own photos on social media, be sure to tag us on Twitter, Facebook, or LinkedIn and use the hashtag #txgroundwater2022.
TAGD members and newsletter subscribers will be the first to know when we have dates for the 2023 Texas Groundwater Summit – sign up for our email list here. We hope to see you next year!
Thanks to all of our wonderful sponsors!